Image: Josh Brown / Foundry
At a glance
Expert's Rating
Pros
Wonderfully designed exterior
Included pen and case
Android-powered
Cons
Subscription-based cloud storage
Gesture-only navigation
Expensive
Our Verdict
The Lenovo Smart Paper has everything you need to start reading, journaling, and doodling, but by pricing itself too closely to that of traditional tablets that do much more, it's hard to recommend it to most. If you're looking to upgrade the functionality of an older E-Ink device, it's great, but if you have any artistic inclination or ambition behind simple doodles, you can do much better for your money.
Price When Reviewed
Unavailable in the US
After a limited run in China, the Lenovo Smart Paper has come across the pond, offering another way for gadget geeks to get off the grid and back writing with their digits curled around what might as well be a magic wand.
For when you want to cut yourself off from distracting apps, but still have the odd one on speed dial as an emergency contact, this paper-like tablet is begging for your attention.
Taking on the likes of the ReMarkable 2, Huawei MatePad Paper, Kindle Scribe and Boox Note Air 2 Plus, you're either reading this as someone looking for your next paper tablet, or a confused consumer entirely unsure as to why (or how) the computer format that stemmed from the smartphone now wants to become what it initially began to replace – paper. 
It's not a new format. The writing focus is, comparatively, a competition that's heating up. It's unclear whether or not the Lenovo Smart Paper will see a worldwide release, but with it rolling out from one market to another after a little while, our hands-on time should help you decide whether or not it's worth picking up should it wash up on your shore.
Design & Build
Sleek and stylish
Grip point
Pen holder
At barely any bigger than the USB-C charging port on its left side, the Lenovo Smart Paper is a thin device. Not quite as thin as E-Ink tablets can theoretically get, but just substantial enough to feel premium as opposed to flimsy.
Its metal chassis is rigid, and with a screen that just works differently to any LCD or LED screen you're likely used to, tossing this thing around, prodding at its screen, or accidentally sitting on it isn't likely to cause any irreparable harm.
Josh Brown / Foundry
The exterior design job features plenty of little details, too. The gently rounded corners of its casing make for a comfortable grip, and they even transition from a brushed appeal to a machined mirror-like edge before reaching the screen bezel, where either a gunmetal gray strip runs down the left side where the included pen sits.
This works as a natural gripping point, with the wide black frame hugging the soft E-Ink display roomy enough to nestle your palms against if you decide to hold it by both corners.
On the back, there's a similar story. Underneath the pen side is a thin strip that runs under the pen cradle. It could also house the Wi-Fi/Bluetooth antenna. Between that and the Lenovo badge of honour on the opposite side is a rear that's split 60/40 between one colour and the next.
Fingerprints will show on the back, but they're easily buffed away. It's a premium design you'll see shared by recent Lenovo devices on both sides of the price bracket, from the P12 Pro tablet to the Lenovo IdeaPad 5 Pro laptop. It's sleek, it's stylish, and it's delectably smooth.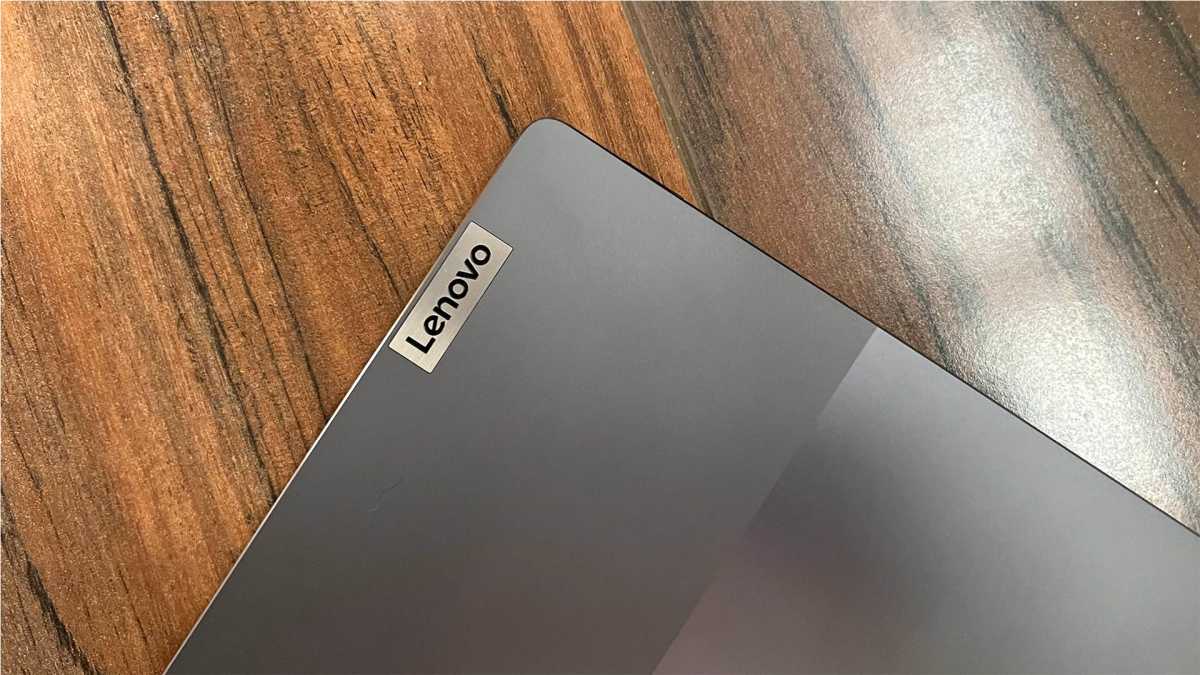 Josh Brown / Foundry
Though it can output audio via connected headphones, you'll find no speakers or volume rocker. Beyond a trio of tiny microphones, its USB-C charging point, and the power button, the edges of the Lenovo Smart Paper are free of any potential obstacles. For better or for worse. More on that in a bit.
Screen & Pen
10.3in HD E-Ink display with anti-glare coating
Auto-adjust front light
Included pen
Lenovo made the right call by including a pen with its note-taking device. Suiting the tablet's style, the mostly cylindrical scribbler has one flat edge that offers both a good grip point for your thumb and a natural nest for how it sits in the tablet's built-in cradle. It magnetizes to this groove with a loud, reliable snap that helps it double as a fidget toy that might get you yelled at.
In use, the pen is comfortable, but it's not the thickest writing utensil out there. Expect a perfect fit in your average use case, but young children or anyone with compromised dexterity might find it a tad too slim. The tactility of putting pen to "paper" feels great, with a satisfying thunk and good traction as you pull, flick, and dot.
Josh Brown / Foundry
The E-Ink display itself tells a similar story. The low-energy tech allows the screen to appear to be on without really impacting the battery at all, with it springing to life with a few shifts of the ink whenever you open the included case. This means you're able to have it show images, a clock, or even your calendar as it sits in view on standby without worry.
From the pull-down settings, you can change the screen's refresh behaviour to presets like fast and smooth, allegedly suiting specific use cases like reading or writing. In practice, it's hard to see the difference between any of them. And if they're so necessary to the experience, having them shift automatically based on the current app or pen status would make more sense.
Text looks sharp on the HD display, and the display tech naturally eliminates detrimental blue-light that could keep you awake. The built-in automatic front light, which a few competitors haven't included, means you won't be keeping anyone up with a bedside lamp. You can even adjust the screen colour temperature for that cool look in the day, or warm look at night. E-Ink is easy to see in bright outdoor light, and the anti-glare coating ensures reading in the garden will be a delight.
In use, the pen is certainly accurate and pressure-sensitive enough for taking hand-written notes in class or meetings. The build-it app also includes around a dozen pen/brush options, which should make doodling and drafting designs or sketches flexible enough for anyone who doesn't rely on elaborate third-party brushes (or colour) to get their work done.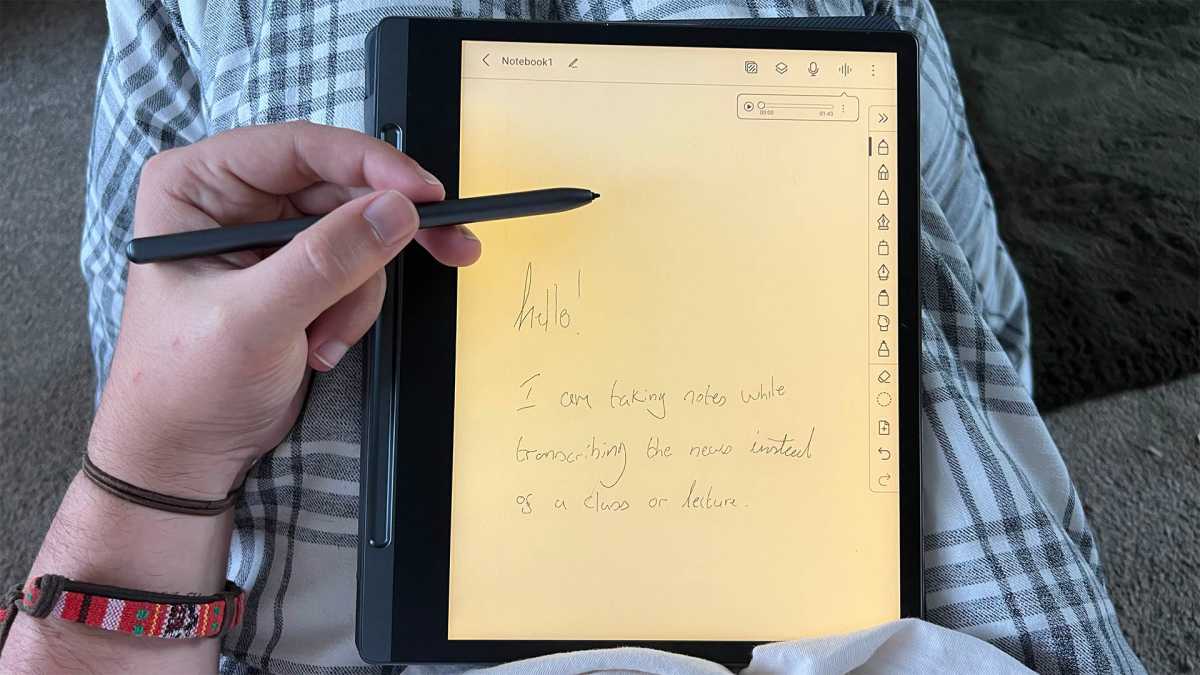 Josh Brown / Foundry
The pen-to-paper feel is there, but what you lose by dealing with a monochrome display makes it hard to see any serious artist choosing this over a comparatively priced iPad and Apple Pencil. Even a second-hand Samsung Note could make more sense for practicing your craft in a waiting room. No dedicated eraser on the top or buttons for quick actions is a missed opportunity, too.
In general use, there's nothing wrong with the processor or the screen's touch accuracy, but the slow nature of the display shifting can make navigations you take for granted on your phone feel like a real chore. You need to slow down your actions to avoid frustration. Typing a web address or Google search, for example, feels like working on a dusty and dated machine from the 90s, but the idea is that you shouldn't be doing it much.
Performance & Software
Powered by Android
External APK support
Bare essential apps come pre-installed
The Lenovo Smart Paper has a leg up over the competition by running Android instead of its own custom operating system. Being largely designed as a distraction-free smart device, you won't find the Google Play Store ready to offer more apps. But that doesn't mean you can't.
With a dedicated note-taking app and an office suite that I can only recommend as a last resort, only Ebooks.com is installed as the book-reading app of choice. Unless you're already using it to house your collection, you'll need to download the app of your preferred ebook repository to access the library you've built up over the years: which isn't going to be easy for the average bookworm.
Josh Brown / Foundry
By using the built-in Firefox web browser, you can install external apps to the Lenovo Smart Paper via third-party sites like APKPure. Simple, slower games and apps like Wordscapes can add a little more worth to the device. Just don't expect anything that relies on motion to fly, and for some apps to outright refuse to install. The 1.80 GHz Rockchip RK3566 processor under the hood didn't exactly smash our traditional tablet benchmark tests, but it was never meant to. 
Attempting to install the Google Play Store didn't take. There's some fun to be had in testing apps the Lenovo Smart Paper clearly wasn't designed for, but your mileage will vary when it comes to those pleasant little surprises.
Likely designed with collaboration in mind, the Miracast feature means you can beam the screen (with colour and audio) to a compatible TV or monitor. This opens up a few more potential purposes for the Lenovo Smart Paper (like live annotations in a meeting) but adding local streaming latency on top of the 25ms pen/touch lag and E-Ink screen's response time will still scare away full-colour artists.
Josh Brown / Foundry
Using the browser on a machine like this is a miserable experience for tasks other than reading plain text, and can quickly become outright dangerous with too many dubious ads on-screen. Having the option is appreciated, but it would have been swell to see Lenovo offer a curated app store for viable programs. It wasn't great on the Huawei Matepad Paper, but its inclusion showed some level of thought had been put in.
In practice, the Lenovo Smart Paper is a good enough reading tool. Though it's a shame to see it skimp out on a 3.5mm headphone jack or volume buttons that could double up as page-turners, you can connect Bluetooth headphones and activate built-in ambient sound features to help you relax while you read.
For those who need more pictures with their words, reading manga obtained through Kindle works just fine. Comixology, Viz Manga, or Shonen Jump could work just as well.
You'll miss out on the occasional full-colour page, which can make reading Western comics and graphic novels a blasphemous experience, but the option is there. It's just that navigating them or zooming in to see detailed panels can be a struggle. The E-Ink technology image retention tendencies can also cause some panels to bleed into the next, which can mess with things like shading on clothes and hair, or even shadows.
Josh Brown / Foundry
For most, a traditional tablet will provide a better overall experience for the cash. With reading potentially better suited to cheaper E-Ink tablets, the cost of the Lenovo Smart Paper starts to raise questions. In reality, you're unlikely to do much more than scribble down rough notes and read things back, making £450 hard to justify even before optional subscriptions enter the debate.
You can record speech during a meeting or lecture while writing down your own notes, but you'll be expected to pay for the privilege to turn anything but your own writing into text to paste into another app. And because of the device's lack of speakers, you can't even listen to recorded audio without connecting headphones.
With no tactile buttons, learning how to navigate the custom Android UI through gestures alone takes some adjustment. Even days later, I was still accidentally closing apps, struggling to find notes, and flicking the wrong way through pages. There's something about how E-Ink screens flicker to render new information that can make it hard to keep up or notice what's going on, leading to confusion about what action or gesture led to what you see on screen.
There's a very, very niche market for an e-reader that costs as much as an entry-level iPad with an Apple Pencil to boot – a setup that can do all the Lenovo Smart Paper can do (and more). E-Ink displays have always been a fascinating concept. They're just a hard sell. You're paying to do away with the conveniences of modern technology.
Josh Brown / Foundry
The Lenovo Smart Paper finds solutions to some of the issues that affect the competition, but it locks a few killer features behind a paywall you can't even sign up for via its companion app on iOS. It has to be done through Android or Windows. You just might just be able to do away with the need by finding a third-party app. As for why even that isn't pre-installed on this Android-powered tablet, your guess is as good as ours. Google Drive is a possibility, but it's a little unwieldy.
Battery Life & Charging
3550mAh cell
10W charging
8 hours from 30-min charge
In terms of how long its 3550mAh battery will last you, the default settings should have it ready to flicker back on for weeks. Standby time is stellar. When juicing up via the included 10W USB-C adapter, you'll net 13% in 15 minutes from a dead battery, with things speeding up to 33% after 30 minutes of charge time.
That's more than enough power to last you a long train or plane journey. While reading on the Kindle app, the battery dipped 4% over half an hour, meaning you should get around 8 hours of screen time from a 30-minute charge.
Price & Availability
£450 RRP
Subscription-based multi-device syncing 
Single Storm Gray 4GB/64GB model
Coming in at almost £200 more than the ReMarkable 2, the Lenovo Smart Paper is anything but inexpensive at £450. But once you dive into the details, it's easier to see it as a more complete package.
You can buy it from Lenovo in the UK but it's not available in the US at the time of writing.
For that inflated price, you get two must-have accessories the ReMarkable doesn't typically come with: the pen and a sleek folio case. Granted the case can't fold over to pitch the tablet at an angle for slightly more ergonomic writing or doodling, but its soft magnetic attach method and ridge for the pen makes it work just fine for quickly stowing away in a bag.
Sadly, seamlessly backing up, transfering, or referencing your important notes on another device requires a Lenovo Smart Paper subscription, following the ReMarkable's business strategy in the most annoying way. Given the tiny size of such files, it's a shame to see a lifetime subscription of sorts not included.
With the pen and folio bringing the competition closer to the price of this slab, cloud storage as standard could have been the deal maker here. A single price for the full experience, with no need to mess around with setup. Forever. Alas, that's not the world we live in any longer.
Scrub the idea of this being the last journaling expense you make. The included pen tips should last years, and there's enough built-in storage for most, but if backups and transcription are a necessity, the initial payment for the hardware isn't the last time you'll be pulling out your credit card.
Check out our charts of the best tablets and best Android tablets for more options.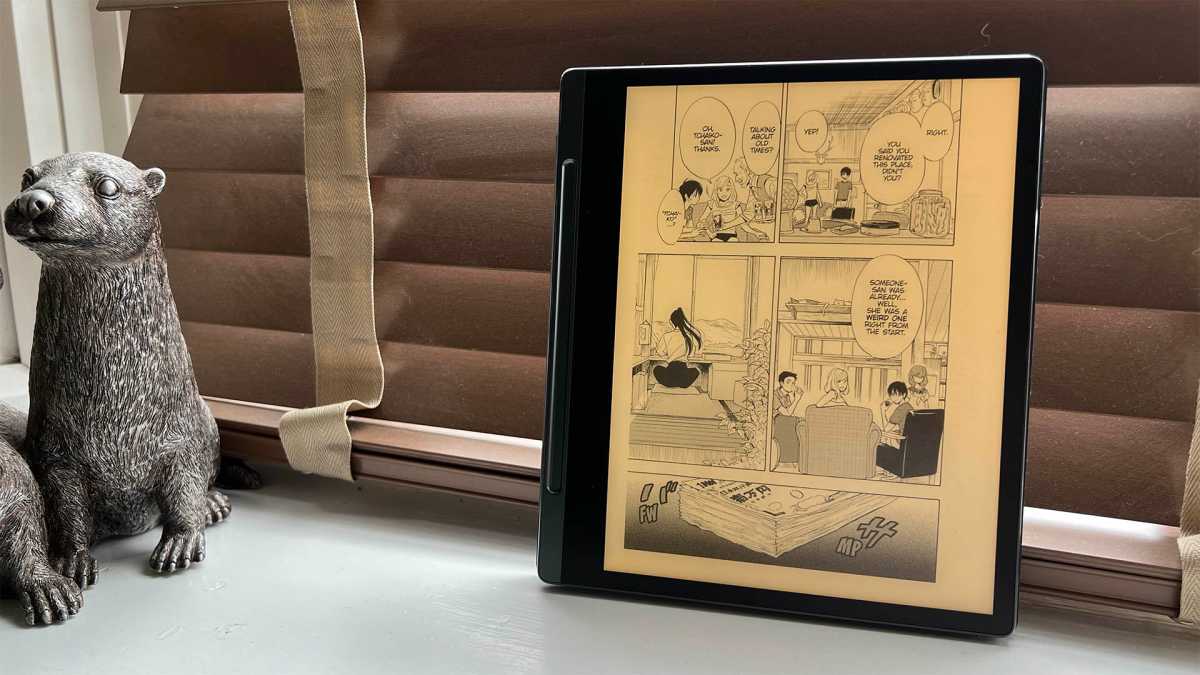 Josh Brown / Foundry
Verdict
The Lenovo Smart Paper is an expensive way to rid your world of countless physical journals. Though technically capable of saving you money if you're a stationery store fiend, the personality you lose by always holding onto a uniform grey device is a tough sell. And you might still lose that external pen.
With no way to add a splash of colour to your notes, and even monochromic potentially vibrant pages of a comic or graphic novel, it's a device that can suck the joy out of some of the activities it endeavours to promote. There's nothing fundamentally wrong with the Lenovo Smart Paper. It's just so limited in its use – by design – that it's hard to justify the high price tag.
If you're looking to expand the use of an older e-reader like a Kindle, it's worth comparing it to the competition. But if you're already in the note-making ecosystem, there isn't a whole lot else on offer with this one beyond the core aspects like a sharper screen, more memory, and vastly more non-expandable storage. This is a note-taking device first and a reader second.
If you're more into the latter, you can probably make do with a cheaper device. If notes are your game and you like the idea of cutting yourself off from much else, it's a convenient device. Just remember that subscription fees might mean you may need just be redirecting your monthly stationery budget rather than saving it all together.
Specs
10.3in 227 ppi E-Ink, dual-colour, anti glare and matte display
Auto-adjustable front light
1.80 GHz Rockchip RK3566 processor
4GB RAM
64GB eMMC storage
Pressure-sensitive pen
Folio case
3550mAh battery
10W charging via USB-C
Bluetooth 5.2
195mm x 226mm x 5.5mm
408g