Microsoft surprised a lot of people when it returned to smartphones in 2019, even if the new device was a dual-screen Android foldable.
The Surface Duo eventually arrived the following year, but it had serious hardware shortcomings that were hard to overlook. 2021's second attempt was a big step forward, although there's still plenty of room for improvement.
A third generation is due soon, but it might not be called a Surface Duo or feature separate displays. Or could Microsoft give up on folding phones entirely? Here's everything we know at this stage.
When will the Surface Duo 3 be released?
With the original Surface Duo finally being released in September 2020 and its successor arriving October 2021, you could be forgiven for thinking Microsoft had settled into an annual update cycle – as is the case with most phones.
However, there was no new Surface Duo in 2022, with Microsoft focusing on delivering several software updates to the Duo 2 instead. Ewan Spence at Forbes suggested in May 2022 that there would now be two years between generations.
But if the January 2023 Windows Central report of its cancellation turns out to be true, author Zac Bowden says its book-style replacement is "unlikely to be ready in time for this fall".
A late 2024 release now appears to be the target, but could the project be cancelled altogether? In a May 2023 Windows Central article, Bowden says "it doesn't look like Microsoft has the resources to fully invest in this vision".
For the Duo 3 (or any Microsoft folding phone) to arrive towards the end of next year, it's going to "need all the important Android software teams at Microsoft to get behind any future vision". At the moment, the device is temporarily "on the back burner".
How much will the Surface Duo 3 cost?
Pricing is usually one of the last product details to be revealed, so it's no surprise that the cost of the Duo 3 remains a mystery. However, we can still use the pricing of the first two generations as a rough guide:
Surface Duo – From $1,399/£1,349
Surface Duo 2 – From $1,499/£1,349
The Duo 3 landing around the same price seems the most likely, but that could all change if the redesign rumours turn out to be true. Windows Central suggests the Duo 3 will be scrapped in favour of a book-style design similar to the Galaxy Z Fold 4, which could push the price even higher.
Author Zac Bowden also says the company is "eager to expand its line of Android smartphone offerings", which could include a more affordable foldable or regular smartphone. An earlier Windows Central article from 2022 reported that a mid-range version of the Duo 2 was considered and even briefly listed on eBay.
What to expect from the Surface Duo 3
The biggest news so far comes from Windows Central's Zac Bowden, who says Microsoft has scrapped plans to bring the Surface Duo 3 to market. He expects it to be replaced with a book-style foldable, similar to the Galaxy Z Fold 4, Vivo X Fold and Honor Magic Vs.
Rather that the current dual-screen design, this would mean a regular-sized external phone display which opens to reveal a small tablet inside. It could technically still be marketed as a Surface Duo, but a name change would be likely.
Usually we'd take news like this with a pinch of salt, but Bowden has such a strong track record for Surface news, it's quite possible this will end up happening.
No specs have been revealed at this stage, but the article indicates earlier patents such as the one below won't become the final product:
The device is still expected to run Android, and this should hopefully be at least Android 13 by the time it launches. But Zac Bowden also says Microsoft is trying to further differentiate its version of Android from the one found other phones.
A custom Microsoft launcher is already pre-installed on both generations of the Surface Duo, but the company is wants to deliver an Apple-style ecosystem experience between Microsoft phones and Windows 11 devices. There may even be new regular smartphones to help support that.
In that same Windows Central article, Bowden says Microsoft had already finalised a dual-screen Surface Duo 3 before scrapping it. It would've apparently featured upgrades including taller displays with slimmer bezels and wireless charging, making it a significant improvement on the Duo 2.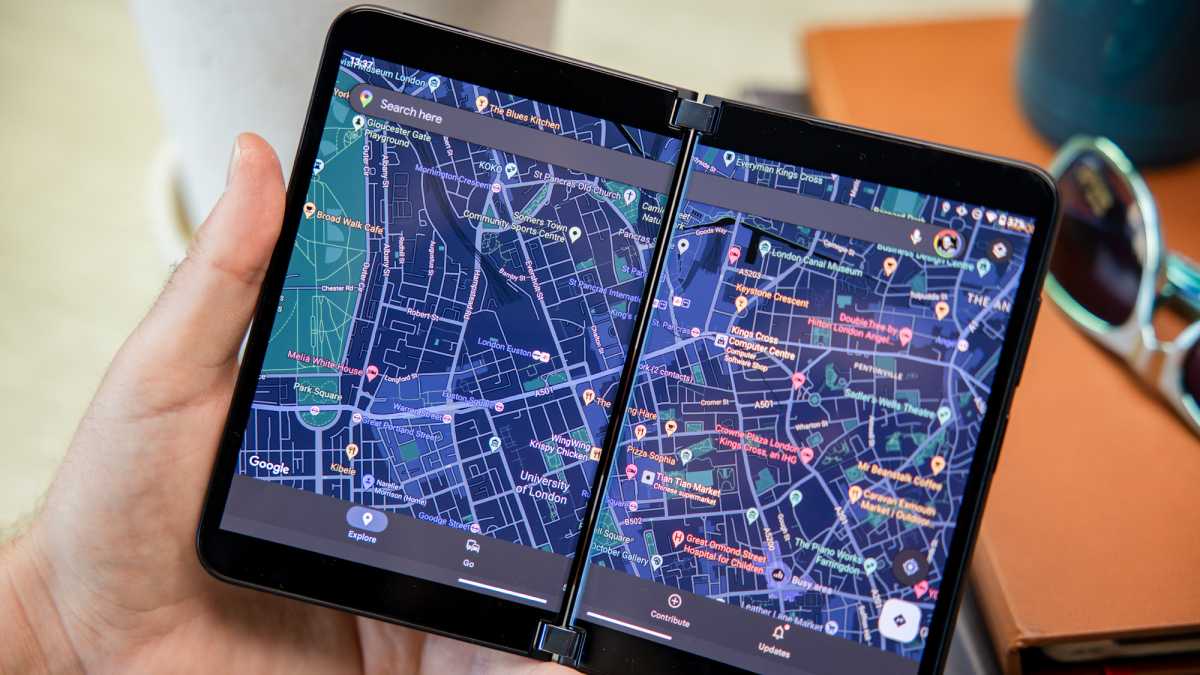 Dominik Tomaszewski / Foundry
It's important not to read too much into a single report, so the prospect of an upgraded Surface Duo 3 coming to market shouldn't be ruled out entirely. But it now seems likely Microsoft will shift to this dual-screen design.
We'll update this article once more is revealed about Microsoft's future foldables.
Related articles for further reading